So you've made your site, you've got your product, but you don't have any customers, and you don't want to pay for adverts that are only a short-term win. Well don't worry, I've got the steps here to help you write the perfect SEO article for your website and win the free customer battle.
Staying relevant
Whilst you may have literally the most incredible and fantastic offering the world has ever seen, Google unfortunately doesn't just give out free traffic. There are many tricks to crafting the perfect bit of content and getting google to love you, but this can take years and years of training, and worse still – every tweak may take around 3 months before it shows you if it did anything or not, as google is a slow beast. So how can you compete against your competition when they've been doing it longer and seem to have more money to throw into their marketing
Producing more
Thankfully Article Fiesta has you covered. Ash, the founder, has been in the technology game for far more years than he's willing to admit. He's helped run many successful online businesses and he has now turned his attention to making Article Fiesta, originally as a tool to help those businesses, but ultimately realized it could benefit other people too. So how does it work?
Decide what keywords you want to win with
So first of all, there's a bit of work on your part. Article Fiesta is so powerful that it can work with literally any niche, but you do need to know the niche that you want to rank for. In my example here I'm going to try and rank for 'artificial intelligence will change the world'. Whilst this is quite a big keyword, it's because I want to focus my next bit of content in that area. It's important for google that you not only write one bit of content but that you prove yourself to be a subject matter expert. To do this you need to write a bunch of content in a small and tight niche, then expand to another sub-niche, and then another, ultimately slowly filling out the broader areas of your niche. Google LOVES when you do this, as it knows that you know what you are talking about.
Plug in your keyword
So continuing with that theme, I'm going to use my 'Artificial Intelligence Will Change The World' in the keyword box here. You can actually leave the title blank and Article Fiesta will come up with an appropriate one, but I actually quite like that keyword as a title, although I will add an 'in 2023' to it, as it seems quite current and I like it. Feel like I've already got a winning article and I've not even written it yet.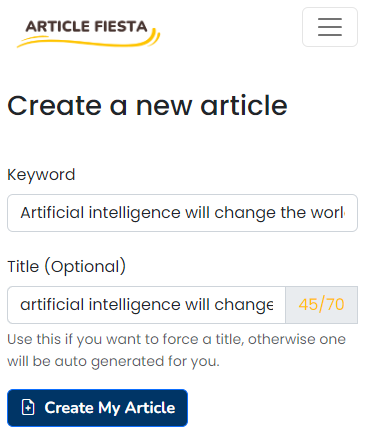 AI Images
Because I know that Google LOVES unique content, I'm going to use AI images for this particular bit of content. There's no reason why I couldn't use royalty-free and rank really well, but I just like having something that's new and unique, as I just feel it's a good differentiator between me and other websites that might write a similar article and end up using a similar image, and I want to stand out.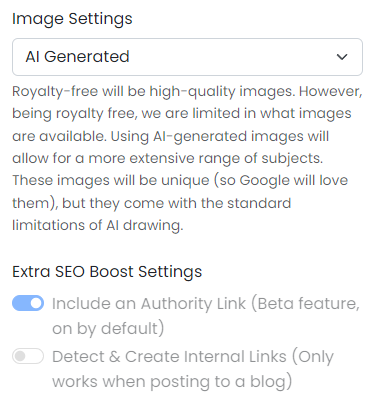 Click Go
So now that I've done the 'hard' part, I simply click 'Create Article'. It's at this point that Article Fiesta does its magic. Behind the scenes actually, a huge amount of complex algorithms are taking place. Whilst producing large walls of text can be done relatively simply with a few of the public text generation tools, these are nothing quite like the power that Article Fiesta provides.
First of all, it will pull out a good eye-catching headline. It's very important to have a good headline, as that will control your 'click through rate', ie when people see that content on google, we want them to click it. The more people that click it, the more google deems your content as high quality, and the higher up the rankings it gets pushed.
This title also needs to be of a certain size. That certain size not only relates to the number of characters in it but also to the pixel width of those characters. For example, 60 w's take up much more room than 60 letters i's, so it's important to find the right mix.


Then we're going to need a high-quality image, readily available to be used when sharing this post on social media. It's important to have a featured image as social media is a great way to gain additional bonus free traffic when people share your content. Of course, Article Fiesta has you covered here.
As with all images, it's also very important that that image has both an alt tag, and a correct width and height set, as that allows Google to index your images (and appear on Google images), and also that your page loads faster and doesn't have any jumps in page layout as it loads (Causing a bad CLS score). Again another important ranking factor with Google. Additionally, you can't just use any old alt tag, there are a certain set of rules that need to be followed relating to the length and characters that should be contained in it, and all of this is handled.
The next important thing that happens is it creates a bunch of subheadings that are tailored not only to the article that you need but also to the things that would best make you rank in Google. It's important to not only touch on your keyword but also on things around that keyword and any aspects that would need to be touched on to make sure you rank. This isn't quite as easy as you might see some of those auto tools create with Chat GPT, as whilst that might produce some headings, they aren't necessarily the ones you want.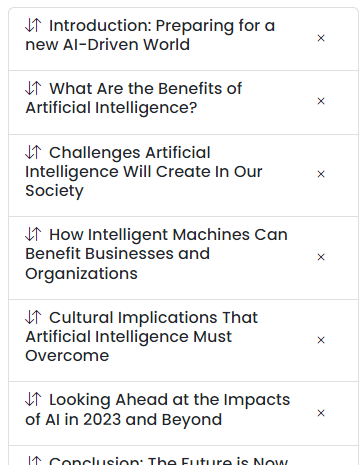 Now that we have the document outline it's time to start filling it in. Not only does Article Fiesta do this, but it looks to make sure that the flow is varied. We can't have repeat sections or similar bits of content. We have to drive the narrative in a way that would compel a reader to keep reading. We also need to look through the content for passive voice sections and convert them to active voice sections. We also need to make sure that we talk about some important points that are needed for ranking.
You may also notice that Article Fiesta has highlighted certain terms in bold or italics. This is again something used to help search engines know which aspects of your content are important, and again is a way to help it rank. We also use bullet points and numbered lists to help emphasize steps that are needed to help both the reader and Google easily understand our content (and to help get snippets on the SERP).

On top of this, a meta description will be written, subsections created, long sections split to improve readability and some additional tweaks applied to help pass any automatic bot checks. It will then insert more relevant images throughout the article, potentially adding videos if it's called for too. These images and videos will also have all the necessary technical aspects of SEO taken care of. It's important that these images don't have filenames that are too long, alt tags that are within certain restrictions, and that these images be formatted in a certain way and orientation, again all of this is taken care of for you.
We then build in some bonus paragraphs for readability and add in a 'read more' section that will allow WordPress to page properly if this content appears on a homepage or list page so that you don't have massive walls of text and encourage a higher click through ratio that in turn makes the user feel more invested (ie they have clicked), and encourages them to click further, be it on adverts or to actually buy your product.
Article Fiesta then tweaks the language of the text, trying to make it cleaner and again read better. Tweaking the voice and tone used in the content, as well as identifying complicated words and sentences and simplifying them for your audience. This makes your content readable to the widest possible audience.
It runs some more anti-AI detection methods to further enhance the content and cleans up any issues with headers that may remain. It then adds a call to action to finish off the article in a neat way, that encourages the reader to do the action of your choice at the end.
There is now something that is INCREDIBLY important to do. Building internal links to your existing content will boost their SEO rankings.
It is important that only relevant content is linked, and that it is linked with the correct keywords. Again this is all handled automatically and is one of the most important things to do for any piece of content.
Additionally, an external link will be built to something of relevance, however, this is something that needs to be done carefully. If you are building a website around crypto for example, it's important that you link internally to things that you want to rank for, but that any external links be a high authority on the subject, and not just push a competitor higher.
For example, in crypto, you might want internal links for Bitcoin, Litecoin, and Ethereum, but link a Wikipedia article for the Founder of bitcoin, as whilst this is super on topic, it's not something you would ever outrank for.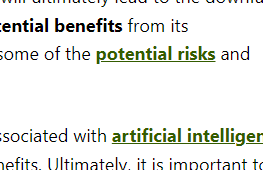 Once this is done it is then important to find the correct tags and categories for the article. These then will be automatically created in WordPress – with any that already exist being reused, but any that are brand new also having a full description built out for them to let them better rank for SEO too, again to help your article be found, and the niche correctly identified in google, and ultimately ranking higher still in the results page. Of course, with any new categories/tags, it's important that a meta description be created for them also, so this is handled for you too.
Finally, a Google Drive copy is created, as not only does this allow you to easily pass it off to any external editors you may use, but it also means that Google sees some extra links to your internal content as a bonus ranking signal.
Once this is all done, these newly generated images are uploaded to your WordPress blog, allowing you to claim full ranking and SEO benefits from anything created, and the article pushed to your site. Depending on your settings this may either be in the draft or fully published state.
From here I will then load up the article and quickly run through it with Grammarly, and look for any remaining issues, before signing it off and setting a publishing schedule (as I tend to do around 20 bits of new content at a time, then schedule to release in a timely manner).
Then I Wait
So whilst all of this could be done in ChatGPT – and by all means go for it, its a slow and painful process – I much prefer pasting in a bunch of keywords, clicking go, and then waiting for Google to index my content and putting it on the first page of the results. Now I just need to make sure I monetize all these new users.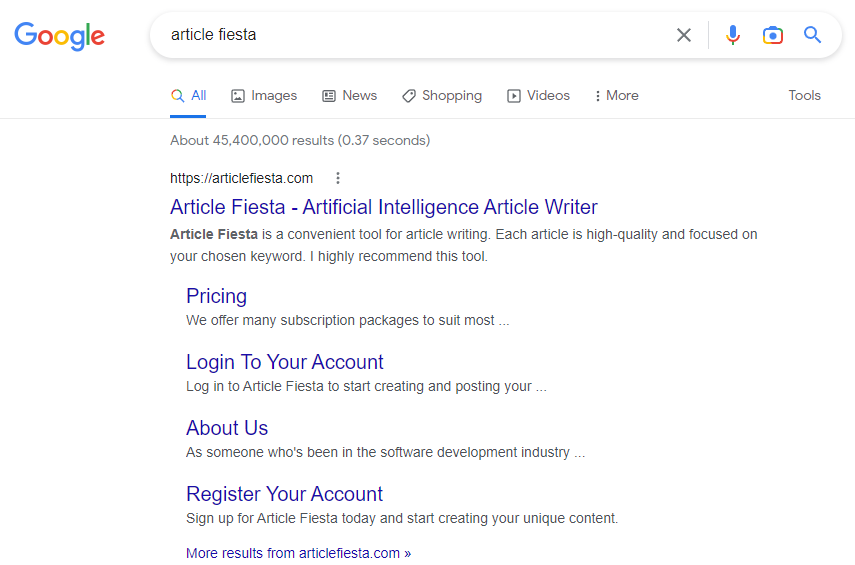 So what are you waiting for, sign up for free now and you can start ranking immediately, rather than spending years learning SEO, then hours writing content using manual tools.